The Liverpool Dementia & Ageing Research Forum
by Dr Clarissa Giebel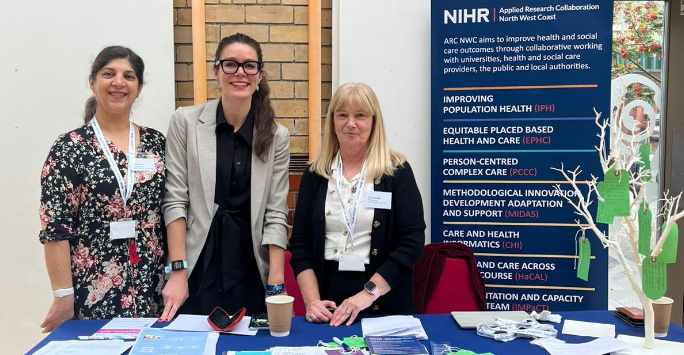 Dementia affects over 900,000 people in the UK, and over 55 million across the globe. It's fair to say it's a huge public health problem, and looking at finding a cure is not the only focus of research. What we need to do is develop meaningful research to support people with dementia and unpaid carers to live well, but also to support the much neglected social care workforce and charities.
Research is not done in a silo however. To focus on those research questions, we need to work with and speak with people affected by dementia and working on the frontline, together. Having noticed many dementia researchers, and of course people affected by the condition and those in caring roles, but no single coherent network in the Liverpool region, I decided to set up the Liverpool Dementia & Ageing Research Forum in 2019. The Forum has two aims – the first is to connect people who are working in the field or have personal experiences and co-produce relevant research together; and the second is to inform about evidence into dementia care and existing care services.
How does the Forum do this? We have four regular activities, focusing on connecting, learning, and co-producing and understanding research. Every two months, we have a public webinar about a different topic with one or two speakers on dementia and ageing. For example, last year we heard from Dr Aida Suarez-Gonzalez about her work into rare dementias, and from Prof Hilde Verbeek about innovative long-term care for dementia (you can also listen to a podcast about her research). For our next event on the 25th January, our speakers include Dr Dalia Tsimpida from the University of Liverpool and Dr Eithne Heffernan from the University of Nottingham, who will be discussing their work into the link between hearing loss and dementia (sign up here). Note, whilst the Forum has Liverpool in its title, it's by no means Liverpool specific only – we get people from across the globe joining us!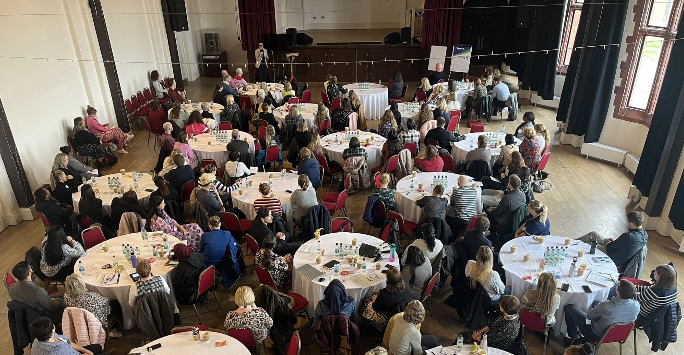 To enable more networking, we are holding regional networking meetings now face-to-face again, twice a year. Each meeting starts with two brief talks from regional service providers – such as Everton in the Community and their dementia work, or the Resilience Hub for care home staff led by Dr Louise Roper at LSCFT NHS Trust. It's an opportunity to learn more about what goes on regionally, but then afterwards to also update one another about ongoing research, or generate new ideas. That's particularly valuable as the meetings are attended by many carers, people with dementia, and care providers, so really the people we researchers need to talk to on a regular and constant basis.
Once a year we have the Forum highlight – our annual Conference! Last October, we had over 120 people in attendance, including from across Europe, and to share their latest research. As always though, it was also important to offer key platforms to lived experts and care providers. That meant we had carer Joan Carton share her experiences of caring for her father with dementia, and Ruth Eley from Together In Dementia Everyday (TIDE) highlight the outstanding work they do to support dementia carers. Save the date in your diary for this year's annual conference on the 25th October, and keep an eye out for abstract submissions opening in April.
Last but not least, we also hold monthly journal clubs. It's a great way for PGR students and researchers to practice their presentation skills by giving a summary of a paper, but also for all of us to carve out some time to read a latest release and critically analyse it.
All in all, the Forum has taken on a form of its own and grown so much since its early days, and it's an absolute pleasure – and one of the highlights and most favourite aspects of my work – to talk to people who are living through the dementia or are providing care, whether paid or unpaid, and learn from them. We researchers have the tools to do the research, but it is those with the lived and professional expertise who we need to listen to and shape research with, to at least try and make a more positive change to care, and their lives.
If you're interested in finding out more about the Forum, visit our website and find out about the latest activities. You can also listen to my science podcast The Ageing Scientist – a pet project emerging from the isolations of COVID-19 trying to make the topics of dementia and ageing that bit more accessible – from discussions on big data on care homes, to Green Care Farms, dementia in the media, and rare dementia subtypes and how we can support them – listen now to 6 seasons (and growing!)
---