A public adviser's perspective on the impact of Covid-19 care home restrictions upon residents and their families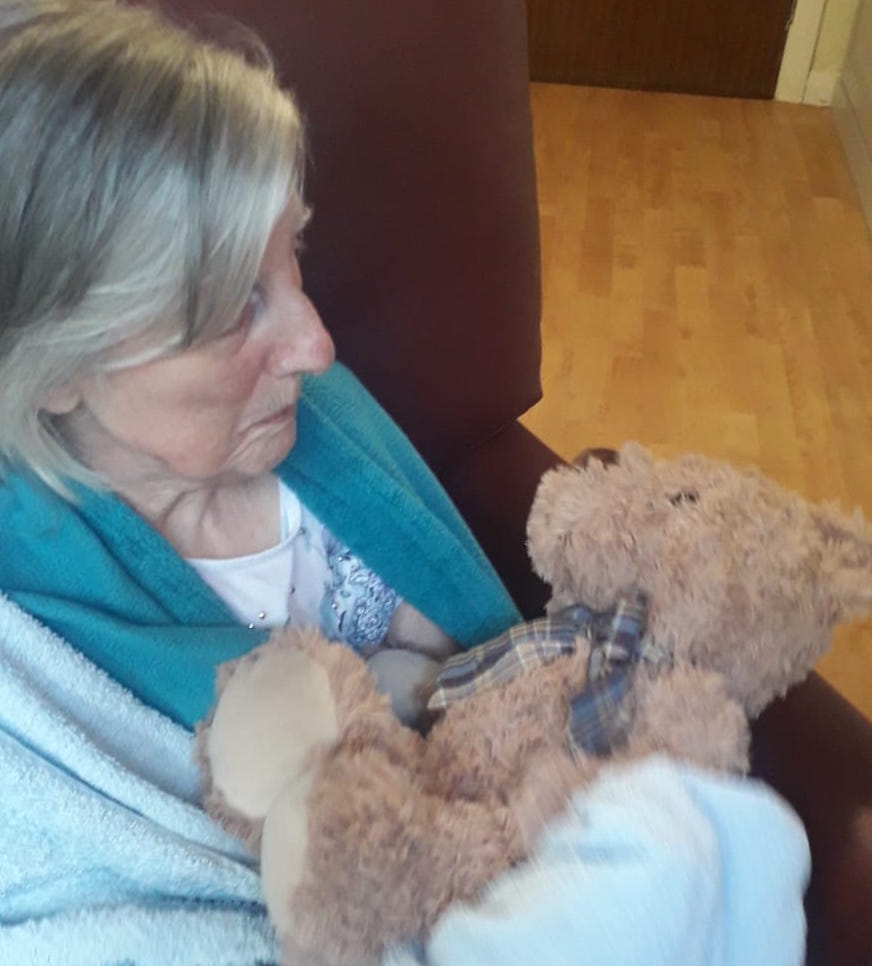 (Paul's mum, Margaret, pictured above)
It causes me much emotional distress to scroll back through my smartphone diary from mid- November to the last time I saw mum at her care home, albeit through a pane of glass: 23rd September 2020. I'd visited the care home spontaneously, knowing the Liverpool Covid 19 cases were rising, and expecting Public Health England to curtail even window visits. Mum looked happy, waving through the lounge curtains before her tea at 5pm. As expected, visiting was prohibited the next day and since then I've got as far as reception to deliver some extra jumpers knowing that up the covered walkway and left through the locked gate is mum.
Exploring the impact of corona virus related closures of social care services on the lives of people with dementia and family carers is a current study led by Dr Clarissa Giebel of ARC NWC and a team of investigators at the University of Liverpool and I'm contributing as a public adviser. It's the first time I've been in the role of public adviser and I'm offering my perspective as a carer who has a family member in a care home during the present visitor restrictions. After years of invisibility as an unpaid carer it's empowering to have my caring experiences valued as an advisor. The study comprises the analysis of phone interviews with family carers and care home staff about the impact of the restrictions. As mum is resident in a care home I can well imagine the conversations and empathise with the participants of the study. The pandemic and its effects has changed all our lives and has importantly highlighted the care sector, pushing it up the news agenda and onto the front pages – the vital work done by care homes and by the millions of unpaid carers, who all play such a critical role in the lives of those who need to be cared for and too often are forgotten about. A study that foregrounds the voices of carers and care home staff is of great urgency.
Heartbreakingly, many with loved ones in care homes have not been able to have any face to face contact since March, so it is with great interest to me and many families that the government has launched a testing pilot in three counties with low Covid-19 transmission rates prior to a phased roll out. The government press release from 16th November states that a successful pilot will hopefully lead to 'meaningful visits' to stop the cruel separation between families and their loved ones in care.
Margaret, my mum has lived at the care home since mid -July and I guess my family have been fortunate in our access to her through the late summer and early autumn. Mum was at home throughout the first lock‐ down and it was a challenging time. Post- lockdown, I'd been heading for carer breakdown and after an initial respite placement, permanent nursing care was seemingly the best option. Mum had been diagnosed with Alzheimer's three years ago and now 87, with her dementia advancing I felt no longer able to cope with the condition at home. Like many thousands of carers, the demands of looking after a family member with dementia during the lockdown had taken its toll. Putting my mum into full time care was in her best interests and would allow me some autonomy over my own life.
The staff at the care home have been really good with mum. She looks settled and comfortable when we have visited and the care staff have been friendly and loving. She has a strong character that hasn't been eroded by dementia. Mum has always had good relationships with carers, even when she was at home. She can be feisty and also good fun. Her love of ballroom dancing has never been diminished and since becoming more confident with her surroundings she has been dancing with the carers who have played the Al Martino and Frank Sinatra CDs which transport her to all those dances at Billy Martin's School of Dance and to lively, fun family gatherings that have always meant so much to her.
This doesn't make up for the lack of human touch though. It was always going to be hard to place mum permanently in a care home, a big decision for the whole family but especially difficult for me as her main carer. I always believed mum was better at home and I did everything I could over the past three years to keep her at home. What makes it even more difficult is not being able to walk over the threshold into what is mum's new home and dance with her. I can't sit with her and share a cup of tea and none of the family can help personalise her room or hold her hand, give her a kiss or reminisce about her beloved husband Jim, pictured in the framed wedding photos we have taken in. On one of my visits mum became very agitated as she wanted to hold my hand, instead banging on the glass patio doors that separated us as I mouthed with desperation, 'there's a virus.'
So what is being proposed for December? The pilot that is currently underway in three counties would mean care homes would test a 'key visitor' who would have access to their loved ones without a screen.
This does place a lot of responsibility to all ready over‐ burdened staff; however the benefits of re-admitting visitors would be significant for the residents and families. The roll out would be dependent upon local transmission rates and has been criticised as getting the hopes up of families for Christmas visits when the trial has only just started. However, the scarcity of close contact between residents of care homes and family and friends is a national emergency and some alleviation of this should be at the forefront of the response to the pandemic.
Mostly though I feel guilt. If I hadn't put mum in the care home in July then she would be here at home with no visitor restrictions except those placed upon households since the second lockdown. Anxiety caused by the decision to move mum into the care home can come upon me suddenly: panic attacks when driving on motorways; the vertiginous sense of loss. I feel haunted by the decision. However, I rationally know it was the best course of action in the circumstances and mum is as happy there as she was at home. At my mum's care home a pod is under construction and I'm hoping the family can visit before Christmas.
On the most recent WhatsApp video call mum was able to focus briefly on my image on the carer's smartphone to reach forward and inadvertently press mute before recognising and pointing at my virtual face filling the screen and exclaiming, 'There he is!' Social media has its limitations, what I'd really like is to give her a hug. It's what we all need at the end of 2020, a hug.
Paul Marlow
ARC NWC Public Adviser
November 2020
---