Health equity message hits the road
We invited the community to 'Come Play With us!' at the ESRC Festival of Social Science and they did!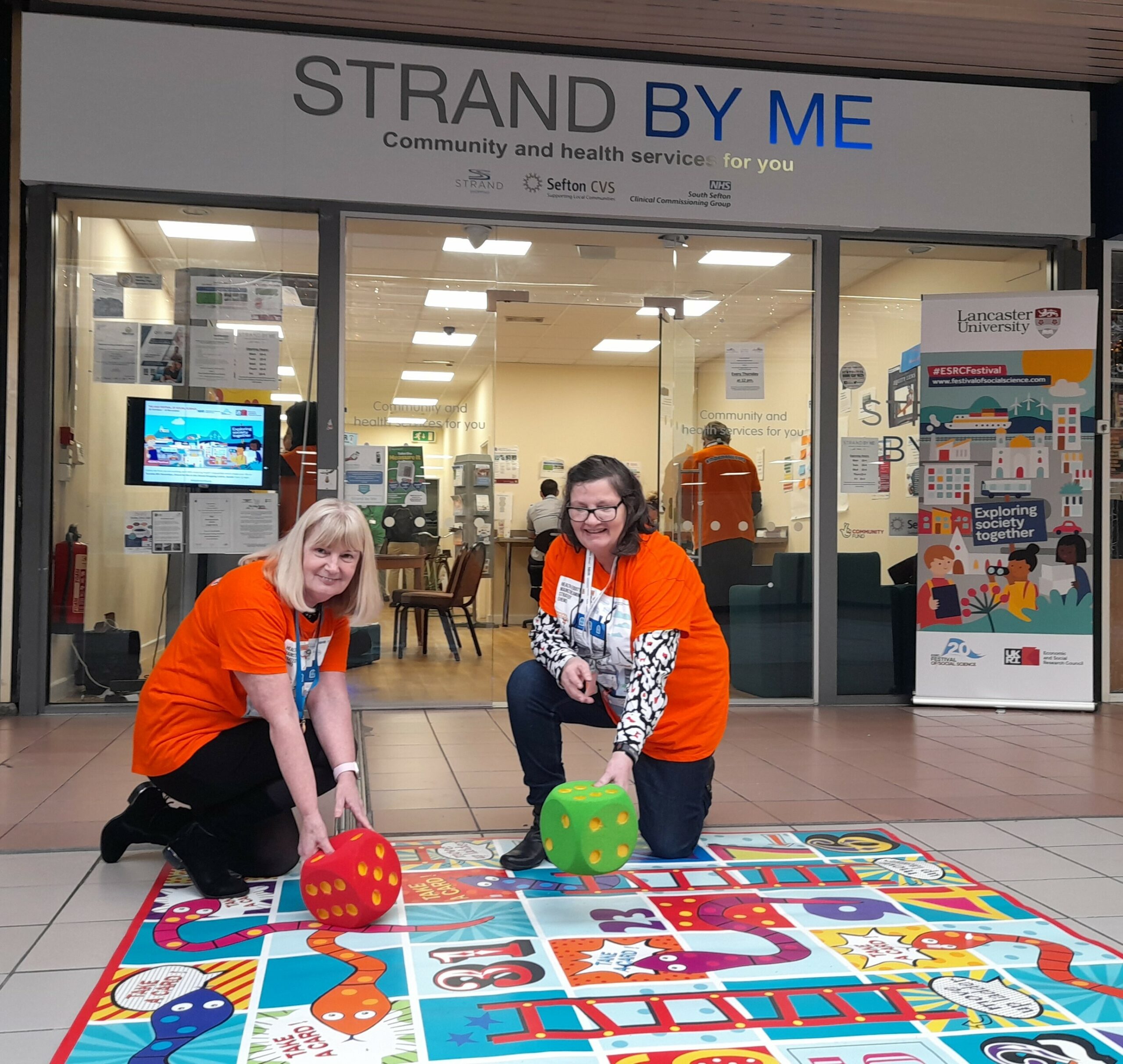 Article by Katerina Katerina Panagaki, Health Equity Mainstreaming Lead, ARC NWC
From big ideas to the most detailed observations, social science affects us all every day – at work, in school, when raising children, within our communities, from the personal and local, to the national and global level. The Economic and Social Research Council (ESRC) Festival of Social Science (FoSS) is an annual celebration that offers a fascinating insight into some of the country's leading social science research and how it influences our social, economic and political lives – both now and in the future. Audience are given the opportunity to discover how social science shapes public policy and contributes to making the economy more competitive, as well as giving people a better understanding of 21st-century society. This year the festival was held from 22 October to 13 November 2022, celebrating its 20th anniversary, focusing on the theme of 'My local area'.
The Public Advisers of the Health Equity Mainstreaming Group took the lead in developing a proposal to take the resources they have co-developed over time on a roadshow, aiming to reach people who would otherwise be less likely to engage with research or academic events. The aim was not only to raise awareness about health inequalities and educate about health inequities, but nudge all who attended to think of actions they can themselves take as part of their daily lives affecting the neighbourhoods they live in.
Inviting other registered ARC NWC Public Advisers, a wider group worked on revising the resources, refining the delivery planned, and arranging locations. In total 15 Public Advisers were involved in some capacity during planning, of whom 10 also facilitated the events. Over the three weeks of the festival, the roadshow completed four stop-overs (Lancaster City Museum, StrandByMe shop in Bootle, Kirkby Town Centre, and Health Innovation Campus at Lancaster University) and reached a total of 223 people (196 adults and 27 under 16yrs) from all walks of life.
The 6x6ft Snakes & Ladders game was a popular attraction (which at times we thought would need to be remade into Twister) and a springboard for impactful conversations.
Also handed out were approximately 130 postcards asking people to observe the health inequalities they experience in their daily lives, that maybe they were less aware prior to attending the event and post them back to us. We very much look forward to receiving these!
As much as we hope we made a difference and offered something useful, the personal stories people shared will certainly stay with each of us personally, but also professionally to guide our future work in ARC NWC.
Everyone involved in the planning and delivery of the 'Come play with us!' sessions at the FoSS 2022 would like to thank the ESRC, part of the UK Research and Innovation (UKRI) for the opportunity and the funding that made it all possible.
We are grateful to all the locations we visited for their hospitality and generosity in offering us the space.
Joe Boyd (below), Community Wellbeing Co-ordinator @ StrandbyMe, of Sefton CVS, said: "Making people aware of health inequalities and explaining how they vary across the Sefton area has been really informative to the shoppers who stopped by our community hub in Bootle Strand today.
The ways to engage such as the snakes and ladders and wishing tree are great ideas. Delighted to work with ARC NWC and looking forward to joining the CoREN network also."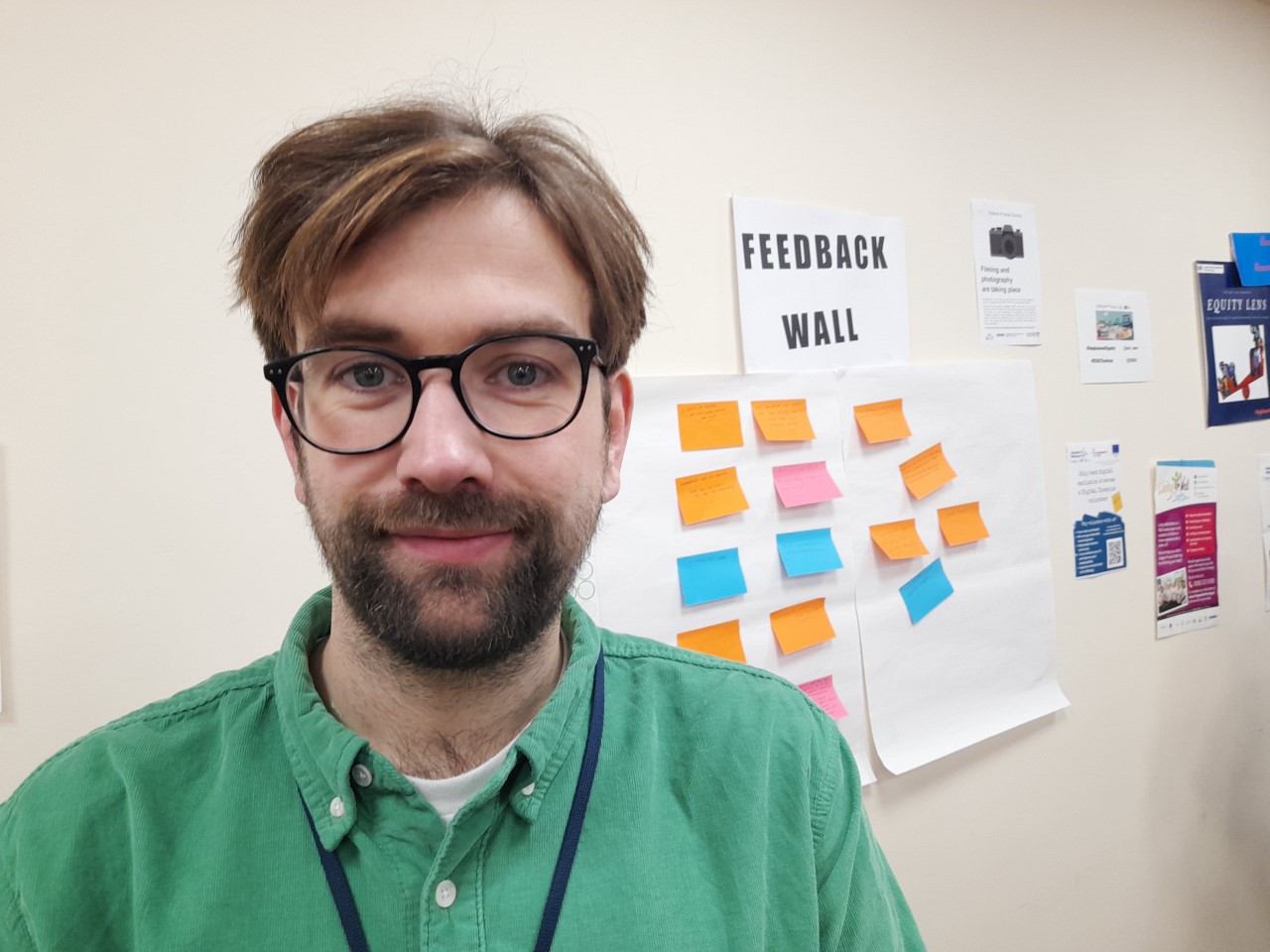 'Come play with us!' Facilitators: Saiqa Ahmed, Alison Bryant, Robert Bryant, Irum Durrani, Saima Gul, Keith Holt, Neil Joseph, Sandra Smith, Naheed Tahir, Farheen Yameen. A perspective from adviser Keith Holt:
Reflecting on developments since my earlier involvement with CLAHRC/ARC NWC promoting health Inequalities, the variety of the resources available has increased. They are an excellent way to offer an insight to a diverse public, who may also become interested in becoming Public Advisers themselves. At a minimum though, hopefully gain awareness into what is a complex and on-going community/ stakeholders problem!
The venues chosen for the sessions were a notable difference to what we have offered in the past, and allowed us to meet the public where they commute and run their errands. Captivating attendees and engaging them when they haven't planned for that time in their day routine and are just passing by, did have its challenges. We could talk at them all day long, but how do we know at the end of a conversation with an individual if and what they have understood, or how their new insights in health inequities might influence them.
Keith Holt, ARC NWC Public Adviser
My involvement at the FoSS event brought me into contact with other ARC NWC members who are equally as passionate as myself, alongside Katerina, to use our knowledge and understanding in conversation and use a wide variety of games/posters/quizzes and resources to engage, inspire and inform the people we meet. I was both enriched and humbled in the exchanges with everyone I met that day who shared their stories and took away with them, in most cases for the first time, a sense of empowerment in choosing to use their knowledge of health equity/inequity to speak out and effect change for a better future for themselves, their families and communities.
Alison Bryant, Public Adviser
I really did not know what to expect of our day in Bootle Strand shopping centre talking with people about health equity. While we had had numerous meetings and many discussions around the materials we were to use, nothing prepares you for the realities of approaching "innocent" strangers, often reluctant and slightly suspicious, with us dressed in a splendid orange Health Equity Mainstreaming T-shirt and with an oversized snakes and ladders game with large dice laid out on the concourse! We threw ourselves into engaging with as many members of the public as possible and the response we back got was great. By sheer effort, ignoring any aches and pains from standing so long, only grabbing a few minutes for a bite of a sandwich, we spoke with many people. So many in fact that we had to keep upping the target of how many people we would end up talking with! There were people who we were able to engage with and who I know went away with a different perspective about health equity, and some whose tragic personal circumstances and experiences could not fail to move me. Ably supported by Katerina, it was an exceptional day for everyone concerned!
Terry Bryant, Public Adviser
To give you a taste of what it really looked like attending one of our sessions, we pulled together a short video summarizing our days at the four locations which can be accessed here.
To access the photos shared during the events search Twitter for #ImplementEquity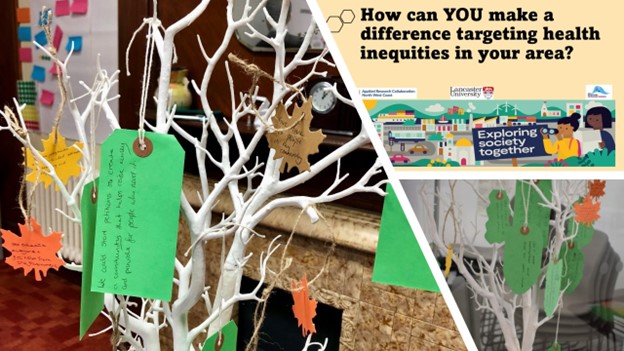 ---